Grief Therapy
by Alessio Faggioli - MA, BS(H), BA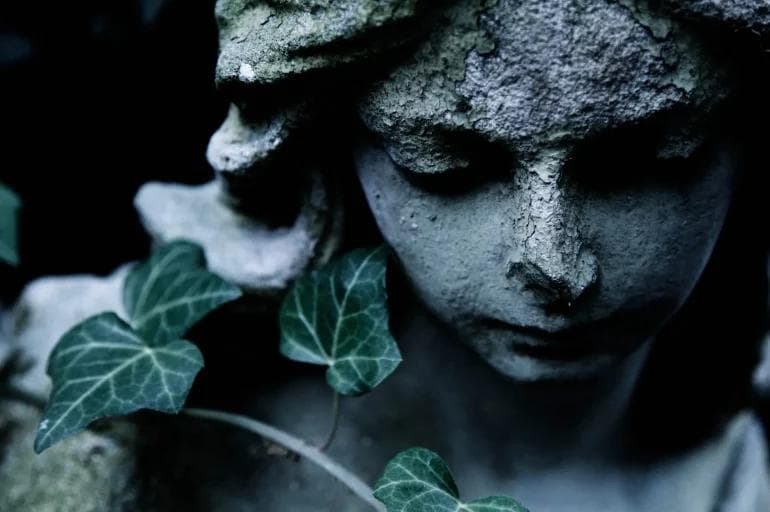 Losing a loved one, an animal, or a relationship can be one of life's most painful moments of our entire life. We embark on a deep, emotionally, and psychologically demanding journey. This is a forgotten journey that everyone as a human being has to go through losing someone or something that we love! On our way to recovery, we will need to learn how to give ourselves time to grieve. Sadness, disbelief, sorrow, and questions fill this period. Emotions run high, leading to confusion. Grief therapy can help you deal with your pain and emotions.
The spiritual meaning of grief
Grief makes us dive into our depths but also the highest aspects of ourselves. A new drive, a new aspiration may arise and motivate our energy, with the aim of better understanding ourselves and the world. This quest may find answers in the different philosophical, spiritual or religious sources of all cultures and periods.
In doing so, by taking one step at a time, we can make a new turn, and change our way of living, and thinking. This slow progression changes our inner environment as well as our view of the outer world. Grief invites us to undergo a profound inner transformation. It confronts us with deep pain and sorrow, initiating a new pathway in our life that invites us to embrace new values, new behaviours and a new way of thinking. In this way, the loved one will have participated in the growth of the new person that you are going to become… Or that you have always been without being aware of it.
The psychological effects of the death of a loved one
The loss of a loved one can cause long-term depression, and isolation. While some receive proper care, many remain unaware of the psychological effects of losing a loved one.
When losing a loved one, the shock is quite brutal, which makes us protect ourselves by putting ourselves on automatic pilot. We instinctively organize funerals, receive guests and carry on conversations without falling apart. Then we will be in search of the other person, doing "as if" he or she still exists because we still have in mind his or her voice, smell, photos, or clothes. All this represents a way to protect us from facing the absence of our loved one. When all the reasoning is over we began filling the void left by the departed person. It can lead us into a depressive state. We continue to have affection for the person but their absence becomes real and cruel.
When grief becomes complicated
Grief is a complex process. It evolves over time and is both influenced and affected by different factors related to the type of loss experienced, the feelings about it, the social or individual context, etc. Often this grieving process can be short and peaceful. But sometimes people go through a period of mourning that can last for several months or even years. It is characterized by major problems in social and relational functioning. This is called "complicated grief".
Complicated grief, in the long run, hinders the return to a balanced life. It can progressively lead to a state of depression with a heavy impact on professional life, and social and family relationships. 10 to 20% of widowers are affected by depression one year or more after the death of their companion. So what are the available options to help us while grieving?
Grief therapy
Grief therapy focuses on helping clients become aware of unconscious mechanisms. Specifically, how feelings, impulses, and defence mechanisms can influence their present behaviours. It focuses on understanding how past experiences affect the way we feel and relate to others today. By talking about the past, people can become aware of why they do what they do now, and have a better chance of making their present meaningful.
How does grief therapy help? The therapist first helps the patient to access the anxiety the person is experiencing and slowly works towards developing skills to tolerate it.
The patient's view of others, himself, and the world becomes more realistic and less distorted by the prism of his grief. A greater sense of inner freedom is experienced. At the end of the therapy, the issues related to the separation must often be worked out and the patient must inevitably mourn his loss and his past feelings.
Grief is unique
Your grief is as personal and unique as your fingerprint; no one else will have the same grief experience as you and there is no one "right" way to respond to loss, however having your close ones' support can be really helpful. Furthermore, it is necessary to free up speech, to inform people about what grief is, and to invite their loved ones to share their experience of this intimate and painful journey. This helps to bring out the psychological, social and spiritual references that bind a community together. It also soothes the pain of the loss.
What to expect during a grief therapy session
The first session of therapy often focuses on gathering information about physical, mental, and emotional health. This helps me to attune to the client's needs. It can take a few sessions to have a good understanding of the client's situation, before making a therapeutic plan. The first session can help the client to understand and decide if my style is a good fit for his/her needs, and to talk about the type of therapy used, treatment goals, ethics, confidentiality, and how many sessions are needed.
Sessions may stir up intense emotions. It is possible to become upset, angry, or sad during treatment. Despite this all may sound challenging, in order to get an understanding of what we hold inside, we have to help it to emerge into our consciousness/awareness. My role as a therapist is to help you to build your confidence, and become more comfortable and attuned with yourself, as sessions progress.
How long does individual therapy last
Individual therapy sessions usually last 60 minutes. The length of the therapeutic plan and how often sessions occur depend on:
The client's mental health condition and its severity,
How long has the client been dealing with the issue/s,
What is the issue's impact on the client's life,
How quickly the person in therapy improves,
Financial limitations.
Some concerns can be addressed through short-term therapy, usually over 6-12 weeks. However, chronic and more complex traumas can require long-term treatment and sometimes even years.
Psychotherapist, Psychologist in Prague
As a registered Psychotherapist and Psychologist based in Prague with over 9 years of experience in clinical mental health, substance use, trauma, and counseling, I have developed a diverse skill set to support my clients.
My approach is integrative, drawing on techniques and theories such as Transpersonal psychology, Person-Centered, Jungian, Gestalt, Existential, Transactional Analysis, Attachment theory, Complex Trauma, Somatic approach, Character styles, Internal Family System, Mentalization, Meditation, and Mindfulness. I am a member of the Irish Association of Humanistic & Integrative Psychotherapy (IAHIP) and the Czech Psychotherapist Association (CZAP), adhering to their code of ethics.
If you're interested in starting therapy with me, the first step is to schedule a free initial consultation call or send me an email.